NHS Staff Discount
We support and value the NHS staffs dedication to caring for our sick and elderly and fully appreciate the enormous pressures they face, physically, emotionally and financially.
If you're an NHS staff member you can keep a little more in your pocket when you want to treat yourself and enjoy 15% OFF when you shop with us.
To verify your status and claim your discount code please click the image or link below.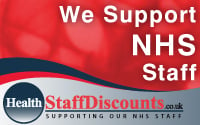 Latest discount offers for Trust Members