How to Prevent Dry Skin When Flying
Restrictions on flights have become increasingly stern in recent years, with carry-on liquids and cosmetics limited to under 100ml.Whilst this is a fabulous thing for our safety, it's not so fabulous for our skin. Long flights can dehydrate us, causing our epidermis to quickly lose moisture; not something you want to kick start your holiday with!
In-flight air quality, as we all know, is very dry, and offers very low humidity. In such conditions, moisture is pulled from the deeper layers of your skin, which makes complexions prone to dryness look and feel even drier. On the flip side, people with normal/oily/combination skin can actually experience more oiliness in these low humidity environments such as airplanes. This is because the skin is trying to compensate for moisture loss by ramping up its oil production. Simultaneous dryness and shine… not a good combo! On the surface, it seems like a necessary evil one has to endure, but Cleo has a few solutions to send those air travel troubles on their way.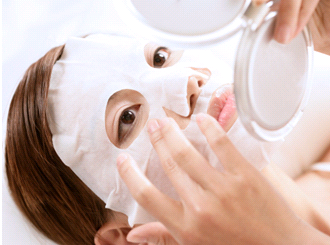 Most moisturisers, toners etc are not suitable to travel with, however a moisturising face mask is the perfect parcel for our carry on to avoid the dreaded dry skin. Cleo offer a range of hydrating masks which will help to lock in moisture whilst travelling. Our hyaluronic face mask is particularly effective for this. Hyaluronic Acid plays a vital role in skin tissue regeneration. Occurring naturally in the body, it can carry up to 1,000 times its own weight of water and is proven to replenish moisture and volume, effectively retaining hydration. It is safe, non-toxic, restores tone & stimulates cell growth as well as being proven to smooth skin, minimise fine lines & even reduce further formation of wrinkles, pro-actively encouraging cells to retain moisture. All of our facial masks are individually packed, and they're not officially considered liquids, even though they contain all the liquids your skin needs! It's the perfect loop hole! Check out our gorgeous range of face masks here.
It really is very simple. Apply the mask to a clean face (ie, make sure you're not wearing make up) and leave on for around 15 minutes. After 15 minutes, remove the mask, pat your face dry with your fingers, and voila! You can even work the excess moisture in to your face for a really hydrating experience, or even rub the still-moist mask on your neck and hands before discarding. Just make sure you warn your fellow flyers before you startle them with a white mask on your face!
Another top tip is to avoid putting water on your face, particularly if you have used a moisturising agent such as the face mask. Whilst it may offer some temporary relief from dryness, it actually makes dehydrates the skin even more than it was before! The water molecules that go in to your skin slowly evaporate, leaving the skin feeling even worse! Any water should be drank, as this hydrates the skin from the inside out! Avoid make up too as this can be equally dehydrating over time.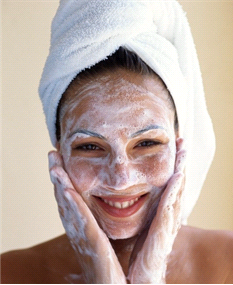 Start the protection the night before. When taking your make up off the day before, avoid using make up wipes and instead opt for a soft cleanser. Most make up wipes, even ones which boast being 'alcohol free', dry out your skin. Not just this, but they seriously clog your pores. Makeup wipes don't contain ingredients which emulsify makeup like cleansers do, so they essentially just work dirt in to your pores. This not only causes the obvious breakouts etc, but contributes to further dehydration. Here is a gorgeous selection of cleansers which will help keep your skin feeling fresh before you travel.
You're on holiday, the perfect time to treat yourself, so the unhealthy food options seem to be a lot more justifiable, not to mention quick and easy! However, foods high in fat, salts and sodium can be dehydrating to your body and cause inflammation of the skin. Eating an unhealthy meal before you board can seriously cause the skin lose moisture. Try and find high-nutrient foods such as apples, plums, and raisins, which have properties known to combat radiation exposure and are low in salt and fat. Plane windows do not protect against harmful UV rays so these foods are particularly recommended!
The average person touches their face about 18 times an hour. You would be horrified at the amount of bacteria that lives on the surfaces of planes, so be sure not to touch your face unless you have freshly cleaned hands; it's not something you then want living in your skin! Keep hands clean and protect your complexion!