Cleo Active Massage Boots | How Cleo Active Works | Get Healthier Legs | Cleo Active for Runners | Cleo Active on TV | Buy Now
Recommended by people like you!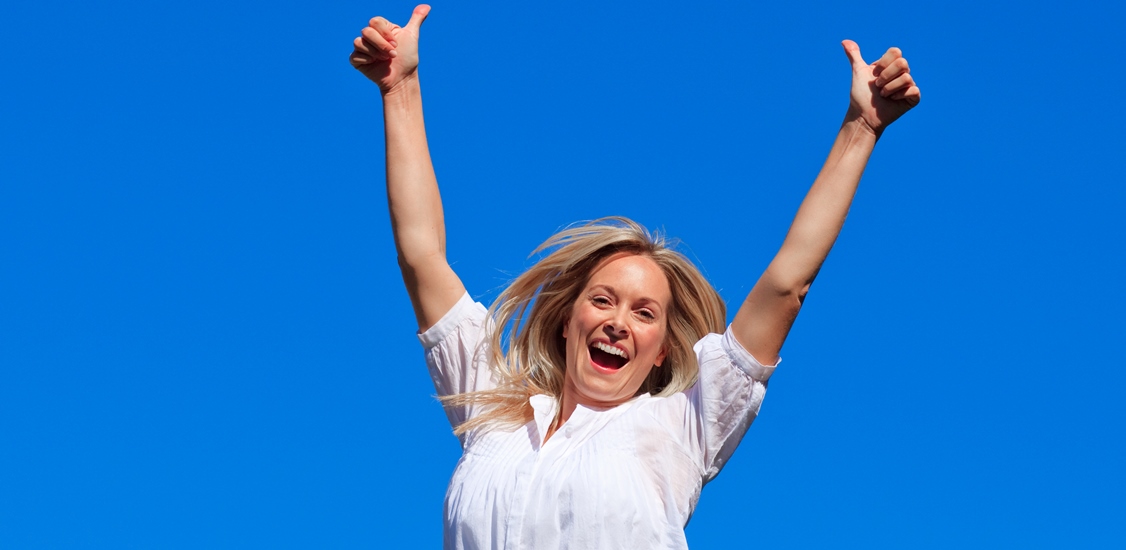 Cleo Active Leg Therapy is a great way to improve the condition of your legs and comes highly recommended by those that have already benefitted from using it; here's what our satisfied customers have to say about how it has helped relieve their problems...
A Raimes "I cannot recommend these enough. Have been using them for years and is only thing that helps the pain. Fantastic"
Mr N Johnson, Cheshire "Dear Cleo , First of all may I say thank you, for the production of the CLEO ACTIVE, which has done all your companies claims. Namely that it will rid my legs of fluid retention. If your products hadn't have been on the market, I would have had to used tablets which would have ruined my kidneys. When i bought them they cost £30 more than now. Thats great value for money."
Trevor Robshaw "I was recently diagnosed with type 2 diabetes and one of the things my GP was worried about was the circulation in my legs. Read More
Mrs Magill "Would highly recommend this product. I've been using this every day for over a week now and it has really made a difference. I have major problems with my legs..." Read More
Mr Galning, Hull "I work in IT and sometimes sit for 10-11 hours a day and one leg has vein narrowing that is causing pain and fluid in my foot. The relief from these inflatable booties..." Read More
Rob "I wasn't entirely convinced when I was told about this product, but after reading other people's comments it seemed a lot more credible than I had imagined..." Read More
M Cartwright "I bought the massage leggings for my older sister and she has found them very helpful for her legs when they swell and ache.
Mrs Hilsley, Shirebrook "My legs feel marvellous I put the boots on 3 times a day. I have had them one week I am not slimming but I am half a stone lighter..." Read More
A Hearn, West Yorkshire "Suffering fluid in one knee and tired legs, I find 20 mins with the actives a good way to relax and massage away the aches and pains. My legs feel revitalised and young again."
Mrs Hayes, Halifax "I have always had poor circulation to the feet. Since using Cleo Active my feet have improved in appearance become warmer and my toe nails grow better..." Read More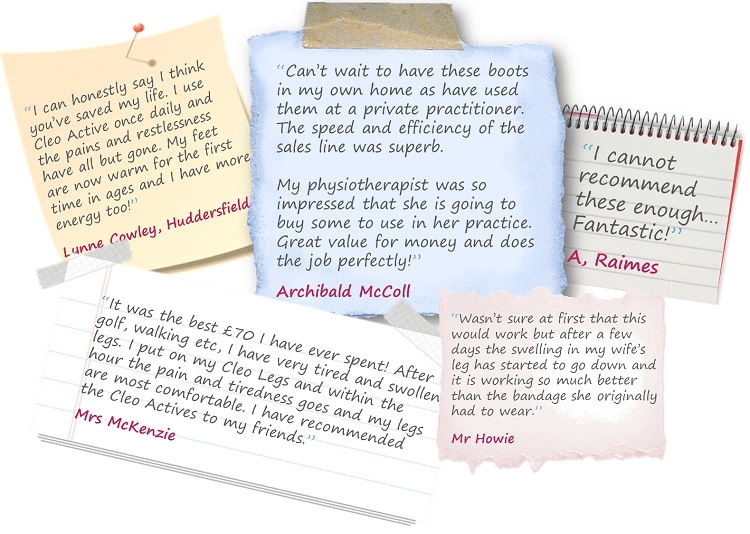 Mrs Clephane, Tadley "I bought Cleo Active specifically to improve very poor circulation for both pre and post long haul flights..." Read More
Mrs Proctor, Kippax "I have cerebral palsy and my lymphatic system is poor so I suffer from swollen legs & feet and my husband has restless legs. I use the flowtron system in hospital but we share the Cleo Actives at home – both of us get great relief from it!"
Mrs Leith, Aviemore "I use Cleo Active when my legs are painful or very restless, and it has instant effects"
Mrs Sterry, Cardiff "The Active boots speeded my recovery from accident wounds and also helped recovery from heel damage after hip replacement surgery."

Mr Thacker, West Midlands "I have plastic arteries in both legs and my legs swell up, using the Actives helps me a lot."
Mrs Cahill, Sussex "I first started using Cleo Active after 2 hip replacements and have been using them ever since as they are brilliant at relieving the discomfort and swelling."
Gillian H "Magic, really pleased with this item, would highly recommend. I use a reflexologist so am aware of puffy/sore places on my feet and ankles, nearly all gone in 1 week."
Anon "I have such a problem with my legs swelling and they are agony at the end of every day. I now get such great relief after a 20 minute session. Just wish I could get an hour out of the machine."
Margaret Grand "One of the best products I have purchased!"